Young people have been inspired to take up bridge building, thanks to a Big Bang Near Me Event in Leicestershire.
More than 3,000 visitors of all ages took part in science, engineering, technology and maths (STEM) activities at Leicester Grammar School, with materials for a bridge building competition provided by the Rochester Bridge Trust.
Other activities included CPR training; ball games with remote-controlled robotic arms; a full-size Flexwing simulator and an Astro Zone, where visitors could taste 'meteor' ice cream.
Dr Kathryn Fulton, the teacher who leads the school's Big Bang team, said: "Now in its third year, our Big Bang fair has grown into a very popular day, introducing visitors from more than 170 schools, nurseries and community groups to the range of STEM activities we had to offer.
"We are grateful to the Rochester Bridge Trust for continuing to support us, by loaning these education materials and providing prizes for the bridge building competition, which we are sure has inspired many civil engineers of the future."
The winners of the bridge building competition were Tyler and Samarth, who are pictured receiving their prizes.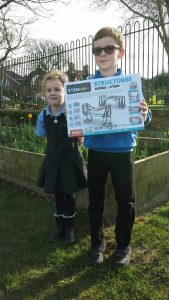 Aileen White, Education Officer to the Trust, added: "As a small team, it's impossible for us to visit every school or group, and so instead we were pleased to be able to loan our education materials to Leicester Grammar School, to facilitate their provision of civil engineering activities at their Big Bang event."
The equipment was lent to the school as part of the Trust's initiative to support engineering education. It included an explanatory pop-up banner and both small and large kits for people to try their hand at constructing bridges.
The free education materials available include a book, Learning about Bridges, which is given to schools and educators, as well as more substantial bridge building kits that are available for borrowing. For more information email education@rbt.org.uk.